Honda Odyssey Owners Manual: Removable Center Console*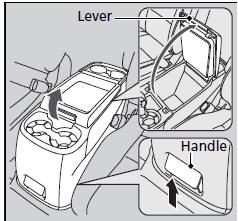 Pull up on the lever to open the console compartment.
■ Removing the center console
Pull up the handle on the front lower side and unlock the console from the floor. Raise it forward to remove.
When you reinstall the center console, place the rear side on the floor first, and align the marks on the sides with the marks on the floor. Push the center console down and lock it. Make sure it is securely latched before driving.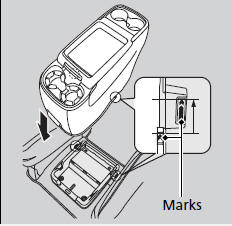 See More:
Honda Odyssey Service Manual > Dashboard Assembly: Driver's Side
Disconnect the roof wire harness connector (A) from the A-pillar. A From under the dash, disconnect the following connectors: Left side wire harness connectors (A) Left engine compartment wire harness connectors (B) Driver's door wire harness connectors (C) AABBC From under the dash, remove the mou ...
Honda Odyssey Owners Manual
Honda Odyssey Service Manual
© 2018-2020 Copyright www.hodyssey.net
0.012