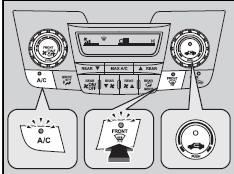 Pressing the

button turns the air conditioning system on and automatically switches the system to fresh air mode.
■ To rapidly defrost the windows
1. Set the fan to the maximum speed.
2. Press the

button.
3. Press the

button.
4. Set the temperature to maximum heat.
For your safety, make sure you have a clear view through all the windows before driving. Do not set the temperature near the upper or lower limit.
When cold air hits the windshield, the outside of the windshield may fog up.
If the side windows fog up, adjust the vents so that the air hits the side windows.
After defrosting the windows, switch over to fresh air mode.
If you keep the system in recirculation mode, the windows may fog up from humidity. This impedes visibility.