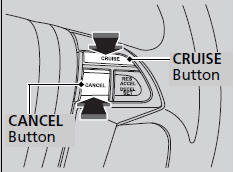 To cancel cruise control, do any of the following:
• Press the CANCEL button.
• Press the CRUISE button.
• Depress the brake pedal.
The CRUISE CONTROL indicator goes off.
Resuming the prior set speed: After cruise control has been canceled, you can still resume the prior set speed by pressing the

button while driving at a speed of at least 25 mph (40 km/h) or more.
You cannot set or resume in the following situations:
• When vehicle speed is less than 25 mph (40 km/h)
• When the CRUISE button is turned off
At vehicle speeds of 22 mph (35 km/h) or less, cruise control is canceled automatically.