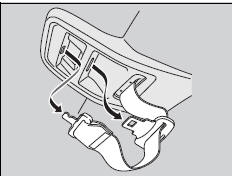 1. Pull out the seat belt's small latch plate and the latch plate from each holding slot in the ceiling.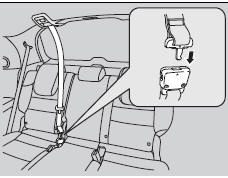 2. Line up the triangle marks on the small latch plate and anchor buckle.
Make sure the seat belt is not twisted.
Attach the belt to the anchor buckle.
WARNING
Using the seat belt with the detachable anchor unlatched increases the chance of serious injury or death in a crash.
Before using the seat belt, make sure the detachable anchor is correctly latched.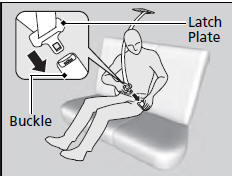 3. Insert the latch plate into the buckle.
Properly fasten the seat belt the same way you fasten the lap/shoulder seat belt.
To unlatch the detachable anchor, insert a key into the slot on the side of the anchor buckle.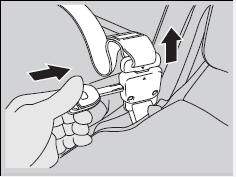 Second row center seat
Pivot down the anchor buckle forward.
Insert a key into the slot on the back of the anchor buckle.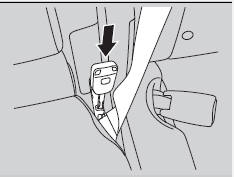 ■Advice for Pregnant Women
If you are pregnant, the best way to protect yourself and your unborn child when driving or riding in a vehicle is to always wear a seat belt and keep the lap part of the belt as low as possible across the hips.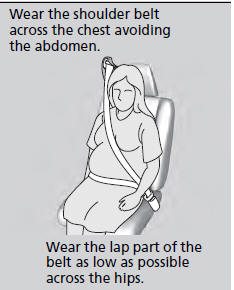 Each time you have a checkup, ask your doctor if it is okay for you to drive.
To reduce the risk of injuries to both you and your unborn child that can be caused by an inflating front airbag:
• When driving, sit upright and adjust the seat as far back as possible while allowing full control of the vehicle.
• When sitting in the front passenger's seat, adjust the seat as far back as possible.