When a child is too big for a child seat, secure the child in a rear seat using the lap/ shoulder seat belt. Have the child sit upright and all the way back, then answer the following questions.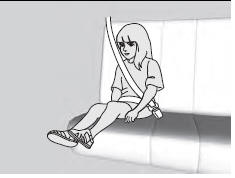 ■ Checklist
• Do the child's knees bend comfortably over the edge of the seat?
• Does the shoulder belt cross between the child's neck and arm?
• Is the lap part of the seat belt as low as possible, touching the child's thighs?
• Will the child be able to stay seated like this for the whole trip?
If you answer yes to all these questions, the child is ready to wear the lap/shoulder seat belt correctly. If you answer no to any question, the child needs to ride on a booster seat until the seat belt fits properly without a booster seat.