Ignition Switch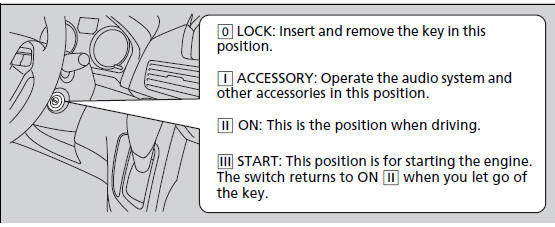 You cannot take the key out unless the shift lever is in

.
If you open the driver's door when the key is in LOCK

or ACCESSORY

, a warning buzzer will sound to remind you to take the key out.
When this happens, the following messages appear on the multi-information display*:
• In LOCK

: REMOVE KEY.
• In ACCESSORY

: REMOVE KEY The buzzer will stop when you take the key out.
If the key won't turn from LOCK

to ACCESSORY

, turn the key while moving the steering wheel left and right. The steering wheel will unlock, allowing the key to turn.