If the compass indicates the wrong direction, or the compass display blinks, you need to manually calibrate the system.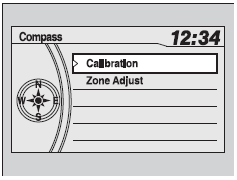 1. Turn the ignition switch to ON

.
2. Press and hold the SETUP button until the display shows the compass setting menu list.
3. Rotate

to select Calibration, then press

.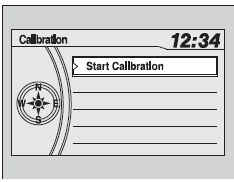 4. When the display changes to Start Calibration, press

.
5. Drive the vehicle slowly in two circles.
► The compass starts to show a direction after the calibration. The CAL indicator goes off.
Calibrate the compass in an open area.
While setting the compass:
• The RETURN button returns to the previous screen.
• The SETUP button cancels the setting mode.