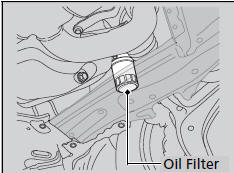 4. Remove the oil filter and dispose of the remaining oil.
5. Check that the filter gasket is not stuck to the engine contact surface.
► If it is stuck, you must detach it.
6. Wipe away dirt and dust adhering to the contact surface of the engine block, and install a new oil filter.
► Apply a light coat of new engine oil to the filter gasket.
7. Put a new washer on the drain bolt, then reinstall the drain bolt.
► Tightening torque:
29 lbf∙ft (39 N∙m, 4.0 kgf∙m)
8. Pour the recommended engine oil into the engine.
► Engine oil change capacity (including filter):
4.5 US qt (4.3 L)
9. Reinstall the engine oil fill cap securely and start the engine.
10. Run the engine for a few minutes, and then check that there is no leak from the drain bolt or oil filter.
11. Stop the engine, wait for three minutes, and then check the oil level on the dipstick.
► If necessary, add more engine oil.
You will need a special wrench to replace the oil filter. You can buy this wrench from a dealer.
When installing the new oil filter, follow the instructions supplied with the oil filter.
Reinstall the engine oil fill cap. Start the engine. The low oil pressure indicator should go off within five seconds. If it does not, turn off the engine, and check your work.
Specified coolant: Honda Long Life Antifreeze/Coolant Type 2
This coolant is premixed with 50% antifreeze and 50% water. Do not add any straight antifreeze or water.
We recommend you check the engine coolant level every time you refuel. Check the reserve tank first. If it is completely empty, also check the coolant level in the radiator. Add the engine coolant accordingly.
NOTICE
If temperatures consistently below −22°F (−30°C) are expected, the coolant mixture should be changed to a higher concentration. Consult a dealer for more information.
If Honda antifreeze/coolant is not available, you may use another major brand non-silicate coolant as a temporary replacement. Check that it is a high quality coolant recommended for aluminum engines.
Continued use of any non-Honda coolant can result in corrosion, causing the cooling system to malfunction or fail. Have the cooling system flushed and refilled with Honda antifreeze/coolant as soon as possible.
Do not add rust inhibitors or other additives to your vehicle's cooling system. They may not be compatible with the coolant or with the engine components.