You must change the engine oil and oil filter regularly in order to maintain the engine's lubrication. The engine may be damaged if they are not changed regularly.
Change the oil and filter in accordance with the maintenance message on the information display*/multi-information display*.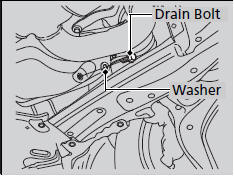 1. Run the engine until it reaches normal operating temperature, and then turn the engine off.
2. Open the hood and remove the engine oil fill cap.
3. Remove the drain bolt and washer from the bottom of the engine, and drain the oil into a suitable container.
NOTICE
You may damage the environment if you do not dispose of the oil in a suitable way. If you are changing the oil by yourself, appropriately dispose of the used oil. Put the oil in a sealed container and take it to a recycling center. Do not throw the oil away into a garbage can or onto the ground.