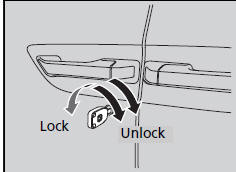 Fully insert the key and turn it.
When you lock the driver's door with a key, all of the other doors and the tailgate lock at the same time.
When unlocking, the driver's door unlocks first. Turn the key a second time within a few seconds to unlock the remaining doors and the tailgate.
Models with multi-information display
You can customize the door unlock mode setting.