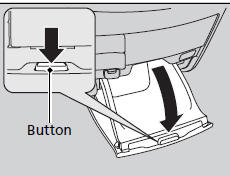 Press the button to open the center pocket.
■ Using the center pocket as a cool box*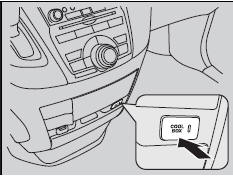 While the air conditioner is in use, you can store items in the center pocket to keep them cool.
Press the COOL BOX button to cool inside the center pocket (indicator on).
NOTICE
Do not put opened cans, or uncovered containers with loose ice inside the cool box. Spilled liquids can damage the upholstery and electrical components in and around the cool box.
The cool box is not a refrigerator. It only keeps chilled beverages cool.
The climate control system continues to cool the cool box when the heater is turned on.
Pressing the COOL BOX button automatically turns on the air conditioning system.
The cool box automatically turns off if:
• The air conditioning system is turned off
• You turn the ignition switch to LOCK