When replacing, use the following bulbs.
Brake/Rear Side Marker/Taillight: 21/5 W
Rear Turn Signal Light: 21 W (Amber)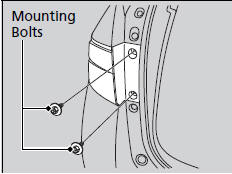 1. Remove the mounting bolts.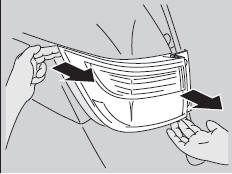 2. Place one hand on the outer corner of the taillight assembly and other hand on the lower edge of the taillight, near the cargo area.
3. Pull the outer corner of the taillight assembly toward you while supporting the assembly with the hand closest to the cargo area.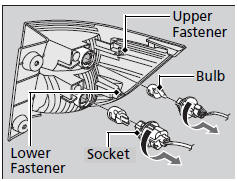 4. Turn the socket to the left and remove it.
5. Remove the old bulb and insert a new bulb.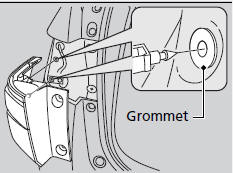 To reinstall, insert the fasteners into the grommets and push the assembly back into place.
► Do not reinstall the assembly if the grommets are loose or out of the holes. Contact a dealer to replace them.