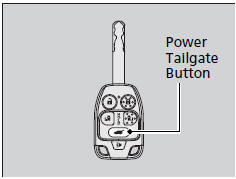 Press the power tailgate button for more than one second to operate.
To reverse direction while the power tailgate is in operation, press the button again. The beeper sounds three times and the tailgate reverses direction.
■ Customizing when to open the tailgate
ANYTIME: The power tailgate unlocks and opens at the same time. This is the default setting.
WHEN UNLOCKED: The tailgate opens unless the door is unlocked.
Models with multi-information display
Models without multi-information display
To change the setting, do the following:
1. Apply the parking brake.
2. Turn the ignition switch to ON

.
3. Press and hold the power tailgate button on the dashboard until you hear a beep.
4. Turn the ignition switch to LOCK

.
►When Anytime is set, you hear one long beep.
►When Unlocked is set, you hear three short beeps.
If the power tailgate meets resistance while opening or closing, the auto reverse feature reverses the direction. Three beeps sound.
The auto reverse function stops sensing when the tailgate is almost closed to make sure that it fully closes.
Do not touch the sensors located on both sides of the tailgate. The power tailgate does not close if you touch either sensor when you are trying to close the tailgate.
Be careful not to scratch the sensors with a sharp object. If scratched, they can be damaged, and the power tailgate closing feature malfunctions.