To use the audio system function, the ignition switch must be in ACCESSORY (q or ON

.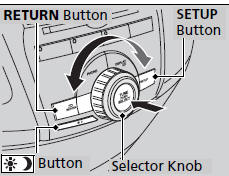 Use the selector knob or SETUP button to access some audio functions.
Press

to switch between the normal and extended display for some functions.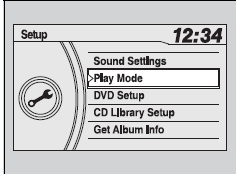 Selector knob: Rotate left or right to scroll through the available choices. Press

to set your selection.
SETUP button: Press to select any mode such as the Auto Select, Sound Settings, Play Mode, Resume/Pause, or compass.
RETURN button: Press to go back to the previous display.

button: Press to change the audio/ information screen brightness. The brightness can be set differently for the day time and night time. Press once for the day time mode.
Press twice for the night time mode.
Adjust the brightness using

.
These indications are used to show how to operate the selector knob.
Rotate

to select.
Press

to enter.