Power Tailgate Button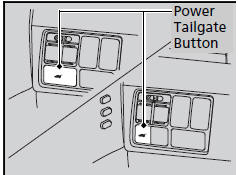 To open or close the power tailgate, press the tailgate button on the dashboard for about one second. The beeper sounds and some exterior lights flash.
To reverse direction while the power tailgate is in operation, press the button again. The beeper sounds three times and the tailgate reverses direction.
Power Tailgate Close Button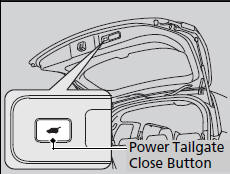 Press the button on the tailgate to close the power tailgate.
If you press the button again while the power tailgate is closing, it stops and reverses direction.
If you push the power tailgate close button while the tailgate is automatically opening or closing, the power tailgate operation stops. Use caution if the tailgate stops in the middle of either operation. It may suddenly swing up or down.