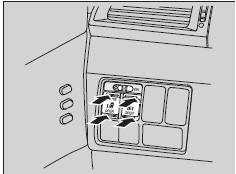 The power sliding door opens when you press the OPEN side of the

/

switch, and closes when you press the CLOSE side of the

/

switch.
While the power sliding door is in operation, if you press the switch that corresponds to that power sliding door, the beeper sounds and the operation stops.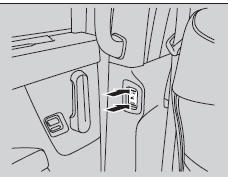 To resume the power sliding door operation, press the same switch again.
Auto Reverse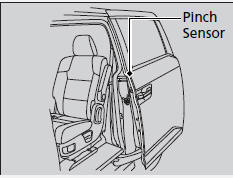 Do not touch the pinch sensor located at the front edge of the power sliding door. Do not damage the sensor. The power sliding door may not operate properly.
If the power sliding door senses resistance when closing automatically, it will stop closing and reverse direction. The beeper sounds.
Before the power sliding door operation, make sure there are no people or obstacles near the door. The auto reverse function should be activated in case of emergency only. If someone is caught in the opening or closing sliding door, it can cause serious injury. Pay special attention to children.
Closing a power sliding door on someone's hand or fingers can cause serious injury. Some parts of the door edge do not sense resistance when the door is near closing.