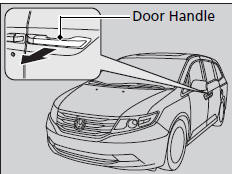 ■ Outer handles
Pull up on the outer handle towards you. The sliding door starts opening or closing.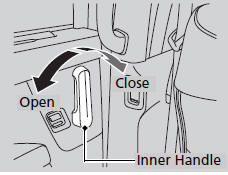 ■ Inner handles
Pull it rearward to automatically open the sliding door, and pull it forward to automatically close the door.
While the power sliding door is in operation, if you pull either handle that corresponds to that power sliding door, the beeper sounds and the operation stops.
To resume the power sliding door operation, pull the same handle in the same direction again.
The beeper sounds and the power sliding door does not open when you pull the inner or outer handle under the following conditions:
• The ignition switch is in ON


• The shift lever is in other than


• The brake pedal is released
• The parking brake is released
If you leave the power sliding door half open on a steep hill with the engine off, the door starts to sliding down towards the hill bottom after 30 minutes. While the door is sliding down, the beeper sounds.